In many ways, the beauty of Arizona is embodied by its most famous natural landmark, the Grand Canyon, but there is so much more. Several 90s alt-rock bands were discovered here, such as The Gin Blossoms, Jimmy Eat World, and even the Meat Puppets. In addition to a booming alternative rock music scene, Arizona also has a history of UFO sightings! In 1997, a city-wide UFO sighting occurred in Phoenix, Arizona. Hundreds of residents and even the Governor reported seeing lights and a large stationary "otherworldly" aircraft in the sky for over an hour.
The Arizona Trail
From the desert to the mountains, the Arizona Trail touches five distinct biomes over 800 miles. The Arizona National Scenic Trail is a lanky route traversing the entire state, stretching from Mexico to Utah crossing isolated mountain ranges, rolling grasslands, sun-spanked desert, forested plateaus, and the Grand Canyon. Notable passages include Passage 11: Santa Catalina Mountains, Passage 19: Superstition Wilderness, Passage 31: Walnut Canyon, and Passage 38: Grand Canyon Inner Gorge.
Meteor Crater
Just outside of Winslow, Arizona is the Barringer Meteor, better known as Meteor Crater. It is one of the best kept meteor craters in the world. The crater was created by a nickel-iron meteorite nearly 50,000 years ago. It is about 1 mile wide and 570ft deep. Nasa astronauts even trained there. The Apollo mission astronauts used Meteor Crater as a stand-in for the moon since they imagined it would be similar and practiced soil-sampling.  
London Bridge
When someone thinks of the old London Bridge, they naturally think about London and England, not Arizona. So, how did a bridge from London, England end up in Arizona? This particular bridge, the "new" London Bridge, was completed in 1831. By the end of the 19th century, it was the busiest bridge in London. After being surveyed to be widened, it was discovered that the bridge was sinking an inch every 8 years. By 1924, the east side had sunk nearly 4inches lower than the west side. It was decided that it would need to be replaced. In 1967, a council member in London had the crazy idea to put the bridge up for sale. Who would be crazy enough to buy a bridge? Robert P. McCulloch was trying to develop the eastern shore of Lake Havasu but was having trouble attracting buyers. It was far from population centers and tourist areas. McCulloch heard that the London Bridge was for sale and thought it would make a great tourist attraction. So, he bought the bridge from the City of London for $2.46m and shipped it over in pieces. The original stonework was used to clad a new concrete structure. The reconstruction took slightly over three years and was completed in late 1971. McCulloch's gamble paid off, land sales improved and he recouped all his expenses for the bridge. So, if you ever want to see a piece of London just head to Lake Havasu, Arizona.  
Grand Canyon National Park
The only spot in the United States that is listed as one of the Seven Natural Wonders of the World sits in the great state of Arizona, and that would be the one and only Grand Canyon National Park. Stretching 277 miles from end to end, its rocky walls descend more than a mile to the canyon's floor, where the wild Colorado River traces a swift course southwest.
Havasu Falls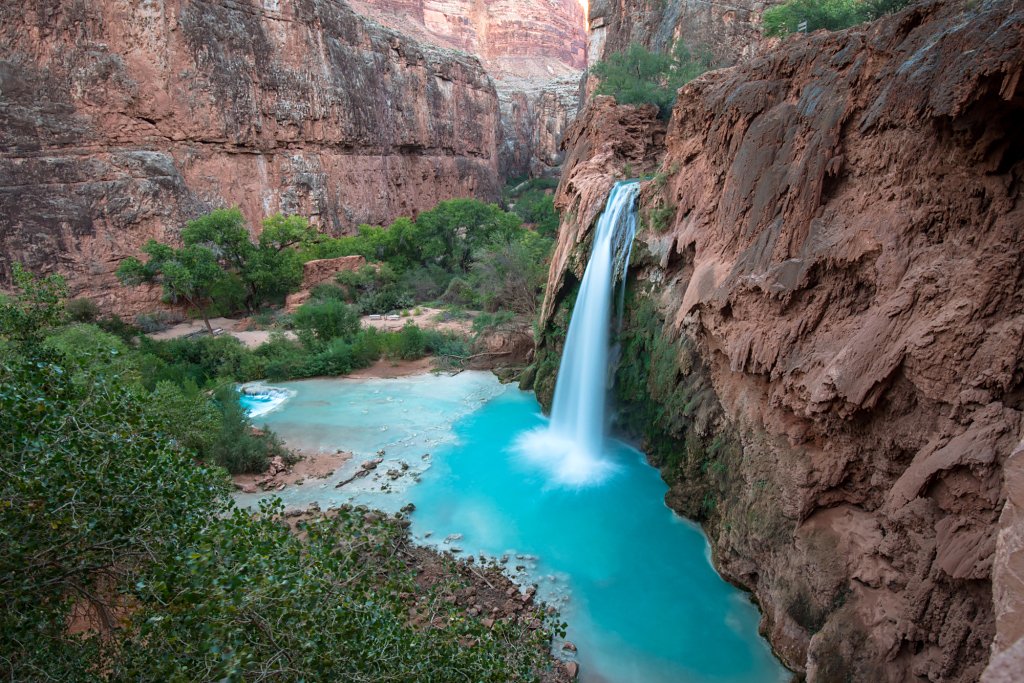 If you're into beautiful beaches, nature trails, boating, and camping, you'll want to check out Lake Havasu State Park. With year-round ideal weather, this special spot is a stunning retreat with an abundance of activities. Located in western Arizona, Lake Havasu State Park is a beach oasis in the desert. This diverse landscape is also home to a variety of animals and plants. In the spring, you can relax on the water and see a colorful wildflower display in the mountains surrounding the lake.