Made up of eight main islands, Hawaii is a fascinating place. It's the only state in the U.S. that isn't landlocked or touching another body of land. With its tropical climate and atmosphere, it's no wonder it welcomes 9.3+ million visitors each year. Being the only state that grows coffee commercially, visitors must be sure to snag a cup of locally grown coffee on the Big Island. You'll also notice that there are no plastic bags in the state of Hawaii, and this is because Hawaii was ahead of the game in banning plastic bags and other plastic items. Back in 2015, Hawaii banned all grocery stores from selling plastic bags to customers. So grab your reusable bags and head to the grocer to stock up on local coffee.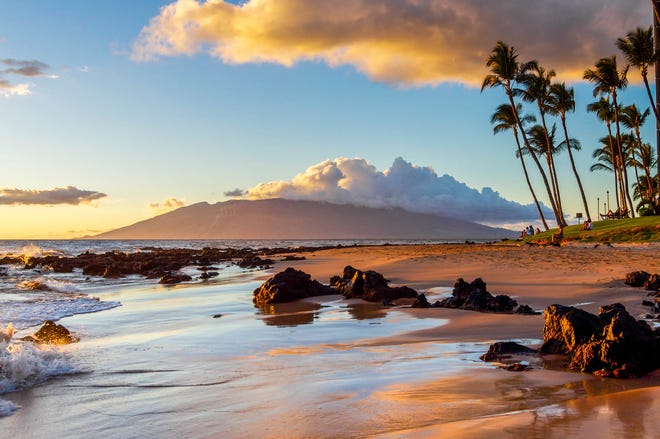 Hollywood Fame
Between the lush and rugged mountain terrains, the picture-perfect beaches, it's easy to see why so many big hits have been filmed in this state. For TV & movie buffs alike, Hawaii has been the home to many fan favorites such as LOST, Indiana Jones: Raiders of the Lost Ark, Jumanji, The Hunger Games: Catching Fire, Jurassic Park, Jurassic World, Pirates of the Caribbean,
50 First Dates, and Forgetting Sarah Marshall.
The Hawaiian Alphabet
One of the only states that have their own alphabet, the Hawaiian Alphabet only uses 12 letters. They also use seven diphthongs, which are combinations of two letters. The 12 letters in the Hawaiian alphabet contain seven consonants and five vowels: A, E, H, I, K, L, M, N, O, P, U, and W, and the seven diphthongs are AE, AI, AO, AU, EI, EU, and OU. Be sure to do some research about this incredible language before you plan a trip to the islands.
The Invention of Water Sports
Surfing was invented in Hawaii. Hundreds of years ago, in fact. And there is a great deal of evidence that the modern sport of stand up paddleboarding (SUP), which is immensely popular worldwide, also originated here–started by the beach boys at Waikiki decades ago, revived more recently by big wave surfers on Maui, then introduced to the rest of the world. Some of the best beaches to surf in Hawaii include Diamond Head, Oahu, Pupukea, Oahu, and Jaws/Pe'ahi, Maui.
Leis
One of the most common symbols of Hawaii is the lei. They are used for celebrations and have many rules regarding their use. One is that it is considered rude to refuse a lei if it is offered. It is also not okay to remove one in front of the person who gave it to you or wear one that you intend to give to someone else. Also, a lei should never be thrown away. Instead, it should be returned to the land, ideally where its flowers were gathered. It is also bad luck to give a tied lei to a pregnant woman as it suggests an umbilical wrapped around the baby's neck. The traditions regarding leis are still taken quite seriously by some of the natives.  
Big Island Getting Bigger
Hawaii consists of 8 islands, the biggest of which is named Hawai'i but is more commonly referred to as the Big Island. Hawai'i is actually getting bigger every year by about 42 acres thanks to Kīlauea Volcano. It has been continuously erupting for 30 years and the lava fields keep adding to the size of the island. The Big Island is also home to Mauna Loa, which is one of the biggest volcanos in the world. Astronauts have trained there for moon missions by walking on the hardened lava fields. More recently it has been used as training for Mars missions.