Pennsylvania was founded by William Penn and is named for his father, also William Penn. He wanted to call it Sylvania which is Latin for "woodlands". It is known as the "Keystone State" due to its location among the Thirteen Original Colonies. As well as the prominent role it played during the Revolutionary War.
Congelier House
In Pittsburgh, Pennsylvania there is a house that is called 'The Most Haunted House in America'. It is also known as the 'House that the Devil Built'. There are many myths and legends associated with the house with most likely very few of them being true. The Congelier House is said to have been built by Charles Congelier in the 1860s and he lived there with his wife Lyda and maid Essie. Legend has it that after Lyda discovered Charles and Essie were having an affair, she killed the lovers then sang lullabies to Essie's severed head until she was found. The house then remained empty until 1892 when it was then converted into apartments for rail workers. They complained of weird noises and abandoned the house. It was next purchased by the reclusive Dr. Brunrichter in 1900. In 1901, neighbors heard a woman screaming and saw an explosion of light. Police found the body of a headless woman and then found a laboratory with 5 severed heads. Dr. Brunrichter disappeared. The house was converted into apartments again for the workers of a gas company. The workers claimed to have heard demonic voices and found 2 of them dead in the basement. There was a natural gas explosion in 1927 and the house was demolished leaving a crater. It is said that it was transported back to hell. There really isn't much evidence to support the stories but the legend of Congelier House lives on.
Punxsutawney Phil
February 2nd is known as Groundhog Day. Legend has that if a groundhog sees its shadow, then it means six more weeks of winter but if there's no shadow then it means there'll be an early spring. The tradition has its roots in the pagan holiday Imbolc and the old Christian holiday Candlemas. German immigrants brought this practice with them to Pennsylvania. The first Groundhog Day was held in 1886 in Punxsutawney, Pennsylvania with a groundhog named Phil from Gobbler's Knob. Today, it is a massive festival where thousands come before sunrise to see if Phil will see his shadow or not. There are now many different Groundhog Day groundhogs across the country who attempt to predict the weather. Punxsutawney's famous groundhog and their festival was popularized in the Bill Murray film Groundhog Day.
Wanamaker's
The first department store in America was located in Philadelphia, Pennsylvania. John Wanamaker owned a men's clothing store called Oak's Hall. He then purchased the abandoned Pennsylvania Railroad station. He envisioned opening up a grand depot like the great central markets of Europe, Les Halles and the Royal Exchange. He wanted to expand into womenswear and dry goods. Wanamaker's Grand Depot opened in 1876. In 1910, he began to rebuild his store in stages in the Florentine Style. He also installed the St. Louis World's Fair pipe organ. He expanded it and it became the Wanamaker organ became the largest operating musical instrument in the world. Eventually, his customers began shopping at other department stores and business declined. It was sold a few times and is now a Macy's. In 1978, it was made a National Historic Landmark. Wanamaker left his legacy on the retail world. He was the first to guarantee quality in print, allow cash refunds and to use price tags. It is said he coined the phrase, "the customer is always right". He also offered medical, profit sharing and pensions to his employees.
Ringing Rocks
Near Upper Black Eddy, Pennsylvania there lies a 7-acre field with some interesting rocks. What makes this boulder field so special, well they literally make music. The rocks in Ringing Rocks park have bell like tones when struck with something like a hammer. Only about a third of the rocks ring. No one is quite sure why they make the sounds they do. In 1965, a group of scientists ran tests on the rocks to see if they could figure out why. They discovered that all the rocks ring but some do at tones lower than a human can hear. However, they couldn't figure out why they ring. It is theorized that it may have something to do with the freeze-thaw cycle that created the boulder field. Another weird thing about these rocks is if you were to take one it would not ring away from the others.
Fallingwater House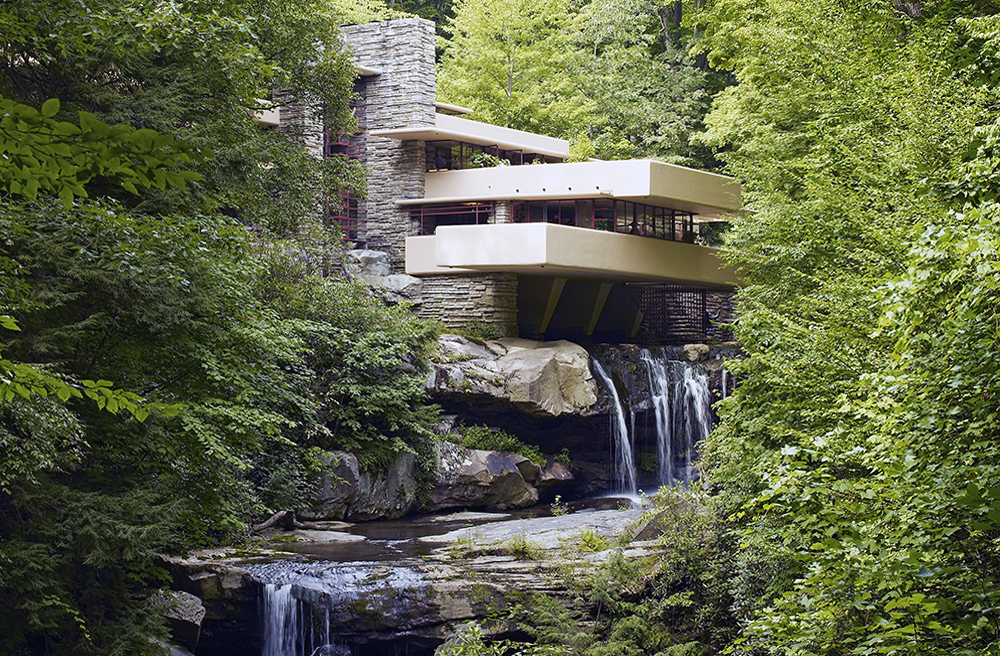 Frank Lloyd Wright is one of the greatest and most celebrated architects of all time. One of his best works is considered to be Fallingwater House in Pennsylvania's Laurel Highlands. It was built by the Kaufmann family who owned a department store in Pittsburgh and wanted a weekend retreat. They commissioned Wright to build the house after Edgar J. Kaufmann Jr. became enamored with his work. They thought he would be ideal since he was a nature lover as well. The Kaufmanns planned for the house to be built at the base of a waterfall but Wright thought that it would be better at the top of the waterfall. It was constructed with local sandstone and other materials native to the area and built by local craftsmen. It was completed in 1939. The Kaufmanns used the house until 1967 when Edgar J. Kaufmann Jr. donated the Fallingwater and surrounding 469 acres to the Western Pennsylvania Conservancy. Today, it is open to the public as a museum. You can tour the house which has all its original furnishings and artwork.