The state of Kansas, often known as the "Heart of America" due to its geographical location, is a treasure trove of hidden gems waiting to be discovered. Despite its reputation as a quiet agricultural state, Kansas offers a rich tapestry of experiences, from historical sites to natural wonders, vibrant cities to quaint towns. Here are 10 lesser-known yet amazing places you should visit while in Kansas.
1. Fort Scott National Historic Site
Fort Scott National Historic Site, situated in the heart of Kansas, offers a glimpse into the state's tumultuous past. In the mid-19th century, this area was a frontierland, a borderland where settlement was ongoing and military protection was necessary.
Fort Scott, established in 1842, played a key role in significant historical events such as the U.S. Civil War and the Bleeding Kansas controversy, a conflict over slavery that foreshadowed the national battle. Today, visitors can explore the site through guided tours, walking through 11 historically accurate buildings housing 30 furnished rooms that provide a window into life over 150 years ago.
2. Oz Museum
Oz Museum in Wamego, a small city on the banks of the Kansas River, offers a fascinating journey into the world of the Wizard of Oz. This museum houses a vast collection of memorabilia related to the iconic story, from original books to modern collectibles, and from artifacts from the classic movie to original silent films.
One of the most unexpected items is a pair of ruby slippers adorned with thousands of Swarovski crystals. Despite Wamego's modest size, the Oz Museum's unique attractions make it a must-visit location in Kansas.
3. Monument Rocks
Monument Rocks, also known as the Chalk Pyramids, are a geological marvel located in northwest Kansas's Gove County. These natural formations, estimated to be over 80 million years old, are among the state's most awe-inspiring sights.
The rock formations, some of which tower over 70 feet high, include remarkable structures like "Charlie the Dog" and "Eye of the Needle." On closer inspection, you can spot shells and even entire fossils embedded in the rock, serving as silent testaments to the area's ancient past.
4. Kansas Cosmosphere and Space Center
In Hutchinson city, the Kansas Cosmosphere and Space Center, or simply the Cosmosphere, stands as a testament to mankind's quest for the stars. This facility is the second-largest space museum globally, featuring an extensive collection of exhibits and attractions related to space exploration.
Visitors can watch films about space exploration in the Carey Digital Dome Theater, a two-story domed screen. The Cosmosphere's Hall of Space Museum houses the most extensive collection of Russian and American space artifacts anywhere in the world, with real spacecraft that you can see and touch.
5. Lindsborg
Known as "Little Sweden," Lindsborg is a small city in Kansas with a rich Swedish heritage. Founded by Swedish immigrants in the late 19th century, Lindsborg celebrates its cultural roots through numerous shops and historical attractions.
Visitors can enjoy a cup of locally roasted coffee at the Blacksmith Shop, explore the Swedish Pavilion, a landmark created over a century ago for the 1904 World's Fair, and participate in various festivals, such as the Svensk Hyllmingsfest, which features Swedish dancing, singing, parades, and vibrant Swedish costumes.
6. Dodge City
Dodge City in western Kansas is synonymous with the Santa Fe Trail and the Wild West's iconic imagery. In the 19th century, Fort Dodge was erected to protect settlers traveling along the trail or settling in Kansas.
Today, Dodge City offers a wealth of historical sites and attractions for visitors. You can tour the preserved Fort Dodge, explore the Boot Hill Museum, which recreates Dodge City as it appeared in 1876, and even witness gunfight reenactments and enjoy chuckwagon dinners.
7. Eisenhower Presidential Library
The Eisenhower Presidential Library in Abilene, Kansas, is a comprehensive research facility housing millions of books, photographs, and artifacts. The library, attached to the Dwight D. Eisenhower Museum and Eisenhower's childhood home, offers rotating exhibits revolving around Eisenhower's life, his presidency, and Kansas's history.
This impressive and historically significant attraction in central Kansas provides visitors with a unique opportunity to delve into the life of one of America's most influential presidents.
8. Tallgrass Prairie National Preserve
The Tallgrass Prairie National Preserve outside Strong City is dedicated to protecting the remnants of America's original tallgrass prairies. The preserve includes several miles of hiking trails, a handful of historic buildings, and a diverse array of flora and fauna.
Visitors can explore the 19th-century Spring Hill Ranch House and the Limestone Barn, enjoy the prairies' vibrant bloom of colorful flowers in the spring, and observe a herd of bison reintroduced to the preserve in 2009.
9. Lawrence
Lawrence, home to the University of Kansas, is a vibrant city known for its art, culture, and nightlife. The city's main thoroughfare, Massachusetts Street, is lined with art galleries, independent eateries, and quirky or vintage boutiques.
Visitors can enjoy the city's thriving local brewery scene, explore the University of Kansas campus, and even draw comparisons to the fictional school of Hogwarts from the Harry Potter universe, thanks to the campus's distinctive architecture and the aptly named Potter's Lake.
10. Wichita
As the largest city in Kansas and the "Air Capital of the World," Wichita offers a multitude of attractions. Home to several aerospace companies and the Kansas Aviation Museum, Wichita is a hub of innovation and technology.
The city also boasts the Sedgwick County Zoo, housing over 2,500 animals, and the revitalized Old Town, a pedestrian-friendly district filled with museums, shops, and restaurants. Whether you're an aviation enthusiast, an animal lover, or a foodie, Wichita has something for everyone.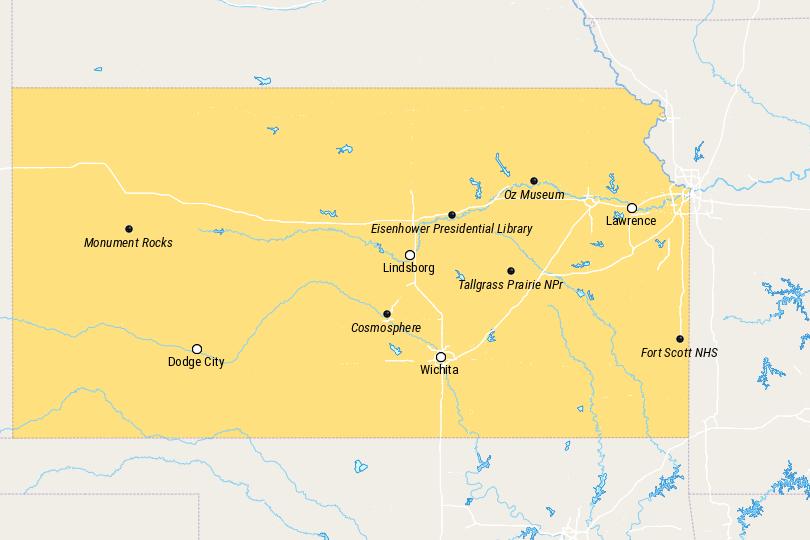 From the historic Fort Scott to the buzzing city of Wichita, these 10 unknown yet amazing places to visit while in Kansas offer a diverse range of experiences that truly capture the state's unique charm. Whether you're a history buff, a nature enthusiast, or a city explorer, Kansas has something just for you. Get ready to discover the hidden gems of the Heart of America!