Utah, often underappreciated by travelers, is a treasure trove of scenic landscapes and outdoor adventures. With everything from majestic national parks to historic cities, Utah is a destination filled with activities for every member of the family. Here's an in-depth guide to eight must-visit locations in Utah for your next family vacation.
1. Zion National Park
Known for its red rock canyons and towering cliffs, Zion National Park is a must-visit for families seeking adventure and natural beauty.
Hiking Opportunities
There are numerous trails for hiking throughout the park. The Emerald Pools and Weeping Rock are popular destinations. However, for the more adventurous families, a climb up the famous Angels Landing is a must. This trek is not for the faint-hearted but promises breathtaking views of the park.
River Explorations
Families can also explore the park from the Virgin River that carves its way through Zion. So, don't forget to pack your water shoes and swimsuits!
2. Arches National Park
Arches National Park is home to over 2,000 natural arches, the world's largest concentration of natural sandstone arches. These unique rock formations have been crafted over millions of years and are truly a sight to behold.
Arch Viewing
The Delicate Arch is the most iconic arch in the park and is a must-see for all visitors. For a truly unforgettable experience, visit the arch at sunset when the arch glows a fiery red.
Camping and Stargazing
The park also offers camping sites for families who wish to spend a night under the stars. With minimal light pollution, the night sky in Arches is a spectacular display of stars, planets, and galaxies.
3. Bryce Canyon National Park
Bryce Canyon National Park is famous for its hoodoos, tall spires of rock that are formed by the erosion of sedimentary rocks. The park offers unparalleled views of these red, orange, and pink cliffs.
Hiking Trails
The Navajo Loop Trail and the Queens Garden Trail are two popular trails that offer stunning views of the hoodoos and other rock formations in the park.
Scenic Drives
For families who prefer to take in the views from the comfort of their car, Bryce Canyon also offers scenic drives with plenty of overlooks to stop and marvel at the landscape.
4. Canyonlands National Park
Canyonlands National Park is vast and rugged, with endless opportunities for exploration. The park is divided into three districts: Island in the Sky, The Needles, and The Maze, each offering unique attractions.
Island in the Sky
The Island in the Sky is the most visited district of the park. It offers panoramic views of the surrounding canyons and mesas. The district is also home to Mesa Arch, one of the most photographed arches in the world.
The Needles and The Maze
The Needles district offers hikes amidst towering rock pinnacles, while The Maze, the least accessible district of the park, is a remote and challenging area perfect for families seeking solitude and adventure.
5. Capitol Reef National Park
Lesser-known but equally beautiful, Capitol Reef National Park offers a unique blend of geology and history. The park is home to colorful cliffs, historical sites, and even orchards!
Hiking Opportunities
There are plenty of hiking trails to explore the park's unique geology. The scenic drives are also a great way to take in the views if hiking is not your thing.
Fruit Picking
In the Fruita Historic District, families can pick fruits like apples, peaches, and cherries from the orchards during the harvest season. It's a fun and unique experience that sets Capitol Reef apart from other national parks.
6. Lake Powell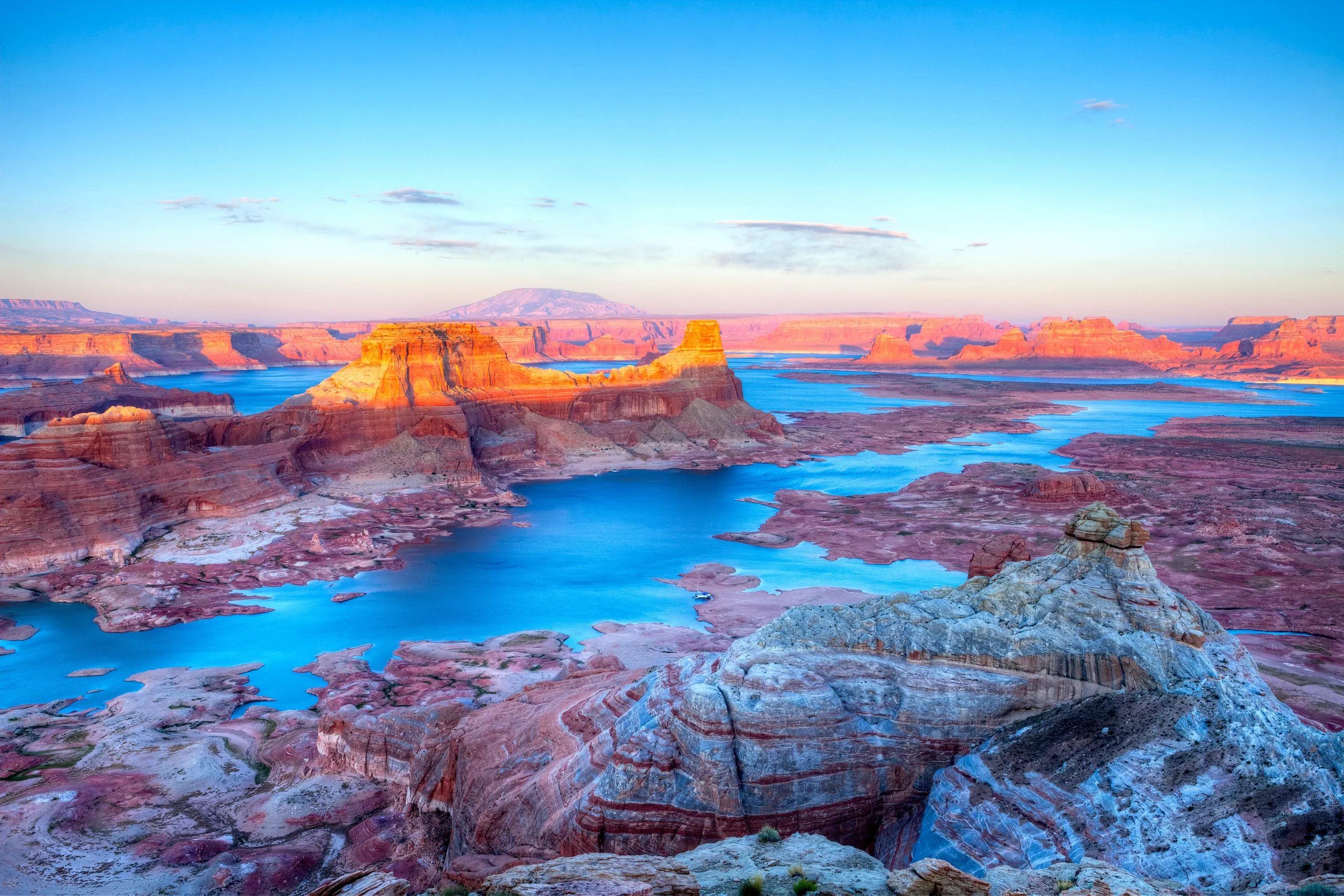 Straddling the border of Utah and Arizona, Lake Powell offers a different kind of natural beauty. This man-made lake is a popular destination for water activities.
Water Activities
Families can enjoy boating, kayaking, and fishing on the lake. There are also plenty of beaches where families can relax and take a dip in the water.
Hiking and Camping
The surrounding area is perfect for hiking and camping. So, don't forget to explore the land as well as the water when you visit Lake Powell.
7. Park City
Park City is a vibrant city known for its world-class ski resorts and year-round outdoor activities. From skiing to hiking to shopping, there's something for everyone in Park City.
Skiing and Snowboarding
Park City is home to several ski resorts that offer excellent skiing and snowboarding opportunities for all skill levels. Many of the resorts also offer other winter activities like snow tubing and ice skating.
Historic Main Street
The city's historic Main Street is a great place to unwind after a day of outdoor activities. It's lined with a variety of shops, restaurants, and art galleries that the whole family can enjoy.
8. Salt Lake City
Utah's capital city is a hub of culture, history, and outdoor activities. From historic sites to professional sports, Salt Lake City has plenty to offer.
Temple Square
One of the most visited locations in Utah, Temple Square is home to several landmarks of The Church of Jesus Christ of Latter-day Saints, including the stunning Salt Lake Temple.
Utah Jazz and Real Salt Lake
For sports fans, catching a Utah Jazz basketball game or a Real Salt Lake soccer match is a must. The city also has several parks and trails for those who prefer to participate in sports rather than watching them.
Canyons Near the City
Several canyons near the city offer opportunities for hiking, camping, and even skiing. Don't miss out on these natural gems when you visit Salt Lake City.
Utah is a state that beautifully blends natural grandeur with urban excitement. It offers a diverse range of experiences that make it an ideal destination for a family vacation. Whether you're a lover of outdoor adventures, a history buff, or someone who enjoys the city's hustle and bustle, Utah has something for you. So pack your bags, gather your family, and get ready to explore the wonders of Utah!